Sustainability and Corporate Social Responsibility Reports
"When we try to pick out anything by itself, we find it hitched to everything else in the universe."
John Muir, an influential Scottish-American naturalist, author  and an environmental philosopher also known as "Father of the National Parks".
What is a Corporate Social Responsibility report or, as it is also known, a Sustainability report?
"A sustainability report is a report published by a company or organization about the economic, environmental and social impacts caused by its everyday activities. A sustainability report also presents the organization's values and governance model, and demonstrates the link between its strategy and its commitment to a sustainable global economy.
Sustainability reporting enables organizations to consider their impacts on a wide range of sustainability issues. This enables them to be more transparent about the risks and opportunities they face. Sustainability reporting can help organizations to measure, understand and communicate their economic, environmental, social and governance performance, and then set goals, and manage change more effectively. A sustainability report is the key platform for communicating sustainability performance and impacts – whether positive or negative."
That's the definition provided by the Global Reporting Initiative (GRI), an organization that was among the first standard-bearers for sustainability reporting. Their standards (GRI Standards) have become the accepted global benchmark for reporting on sustainability.
Sustainability and Corporate Social Responsibility Reports we designed with our clients: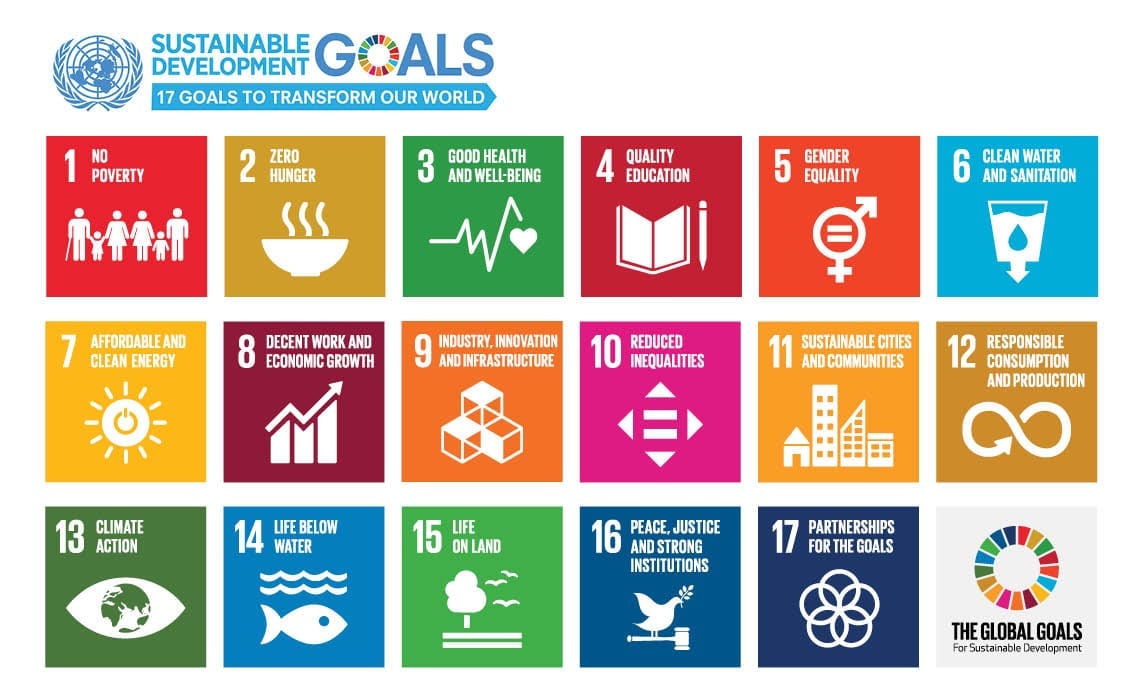 In September 2015, government representatives, global leaders, international organizations, the World Bank and the OECD nations convened in the United Nations General Assembly and unanimously approved 17 global goals and their 169 targets. These Sustainable Development Goals (SDGs) define the global framework for sustainable development through 2030 and are to be integrated as much as possible by the member nations.
These global goals are meant to answer basic questions like: Who do we, humanity as a whole, wish to be and how can the world become a better place?
The UN turned to business and the private sector to help it achieve those goals. The thinking was that if every business is careful about fair treatment of its employees, everyone in its supply chain, local communities and the environment, then the world will improve. Sometimes the effect will be direct and sometimes indirect.
The problem is that it's not that simple. Not only are the goals ambitious, they are also complex. Those 17 challenges have, as I mentioned, 169 targets and hundreds of metrics. To measure progress toward all the global goals, there is a tool called the Social Progress Index. This index asks 3 basic questions about a society:
• Does everyone have their essential survival needs: food, water, shelter, security?
• Does everyone have the building blocks for a better life: education, information, health, and a sustainable environment?
• Does everyone have the opportunity to improve their lives, through rights, freedom of choice, freedom from discrimination, and access to the most advanced information available globally?
The Social Progress Index uses 52 indicators to generate an overall metric on a scale of 0 to 100.
Responsibility in an irresponsible world?
The essence of the report is inherent in its name – responsibility. In the world of coronavirus and economic crisis, alongside the growing power of social networks, the "fake news" culture, uncertainty and mistrust, issues of corporate responsibility are more relevant than ever. It is impossible to continue operating only along the lines of financial gain. The resilience of an organization is largely due to non-financial conduct that ultimately indirectly contributes to its bottom line in the long run.
Today, it is clear there are even limits to business conduct and greed. Everyone remembers the case of Volkswagen, which was accused of falsifying data regarding the pollution produced by its cars, or Facebook, which recently paid a price for its failed management in share devaluation (even if only temporarily). It is precisely for that reason corporate social responsibility reports exist. They are about taking responsibility in every area – economic, environmental, social, ethical. Responsibility for the company's conduct and business culture. Responsibility for the products and services the organization produces, and of course responsibility for proper corporate governance.
The reports are supposed to tell the public what the company believes in, what it does beyond business and direct profitability, how it conducts itself in social, economic and environmental areas. This is so that all stakeholders can be part of the discourse, not just shareholders, as before. Good reports can really be a tool for decision-making and present a broader, less finance-oriented, picture of the company. It's a picture that's become important, nowadays, also in relation to investments in the company.
Design and CSR reports, or: What needs to be designed in CSRs?
The main goal in designing corporate social responsibility reports is accessibility and transparency for all stakeholders. There is no point in investing in a report no one is going to read. We believe that designing and planning the right hierarchy of information, using relevant and powerful visuals, incorporating emotions and not just facts, and lots of infographics make the important things accessible. They make the report a tool for teaching, working on, and monitoring the company's development.
Some companies insist on a bank look-and-feel in an attempt to give the CSR report a look reminiscent of their annual reports. We do these as well. There are those who think the report is a rare opportunity to create a dialogue with the readers and turn it into a magazine of sorts. In these latter reports, I must say, we have greater faith. No matter the option chosen, there is no doubt that a CSR report can no longer remain merely a task to be checked off a list – "Created report – check" – because we must. A report is a wonderful platform to convey brand assurance, values, vision and corporate culture. We believe that design has an impact and the ability to create positive change in all of these areas.